Hey friends!
I'm popping in to share a clean and simple card with you today. I love a good rainbow and this one doesn't disappoint!
To start things off, I used the Botanical House die set from Spellbinders. I cut the leaf shapes from 6 different colors of cardstock. To make this process go faster, I used washi tape to attach all the dies to one another so I could move them easily from paper to paper without having to reposition them each time. I love anything that can save me time while crafting!
Once all of my pieces were cut out, I started to arrange them on my white cardstock. I knew I wanted these to fit under the frame of the greenhouse, so I cut that from black cardstock so I'd have a reference. Once all of my pieces were in place, I actually used a piece of Press N Seal to keep them all in place. I flipped them over and applied glue to the back side and then, while they were still attached to the Press N Seal, I flipped them back over and adhered them to my white cardstock. This makes layering multiple pieces so quick and easy. I layered the greenhouse frame die cut right on top with liquid adhesive.
For the sentiment, I pulled out one of my Spellbinders card kits (You're My Type). I paired 'love. hugs. kisses.' and 'for you' and I couldn't be happier with how it turned out. I stamped the sentiment in black ink and added a few clear sequins for some sparkle. I mounted my card panel on a white A2 sized card base and that finished everything off.
I love how this one turned out and I hope you do, too! Be sure to let me know what you think about it by leaving a comment. Have an amazing day!
Hugs and love,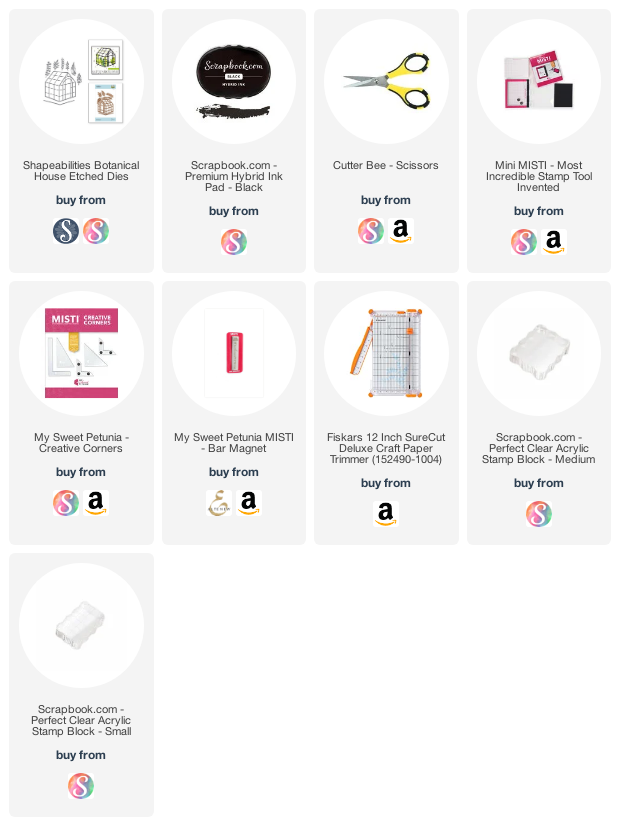 https://linkdeli.com/widget.js?id=f5e8378456858c916708